Posted on May 23 2019
The most popular misconceptions about yellow wallpaper is that they're often seen as overly loud, gaudy, tacky, and just something that you wouldn't even consider using throughout the room at all. However, by the end of this article, we hope to change your mind completely! With a mix of home, commercial, and mural products, we're showing you how yellow wallpaper can be used in a tasteful way that's super stylish. It's time to look at the brighter side with our top 7 yellow wallpaper!
Psst! And if you're looking for other articles in our "Top 7 Color" series, check them out below:
What You Need To Know About Yellow Wallpaper
Yellow is one of those colors that people either love or hate. For some, it's a color that best symbolizes happiness and optimism with its bright appearance. It's the epitome of the summer season. For others, it's an overly harsh, unnecessarily vibrant color that gives them a headache. While most people think of bright or pastel yellow tones, there are other yellow shades to consider (especially if the bright yellows do give you a headache!). Take a look at these two floral wallpaper, both of which are inspired by Vincent Van Gogh's impressionistic artworks:
Marigold Vintage Almond Branches R6023
Bold Floral Almond Blossom R2791
Like any other color, yellow is an extremely diverse color ranging from extreme dark shades to much lighter tones. Marigold, yellow with orange, offers a much darker almost brown color that's much different than the second floral wallpaper above, which is the more typical yellow color. When most people think of "yellow," their mind goes immediately to the second wallpaper color, rather than the first. However, yellow is a color with a lot of variation and when combined with wallpaper designs and other colors, can be absolutely stunning.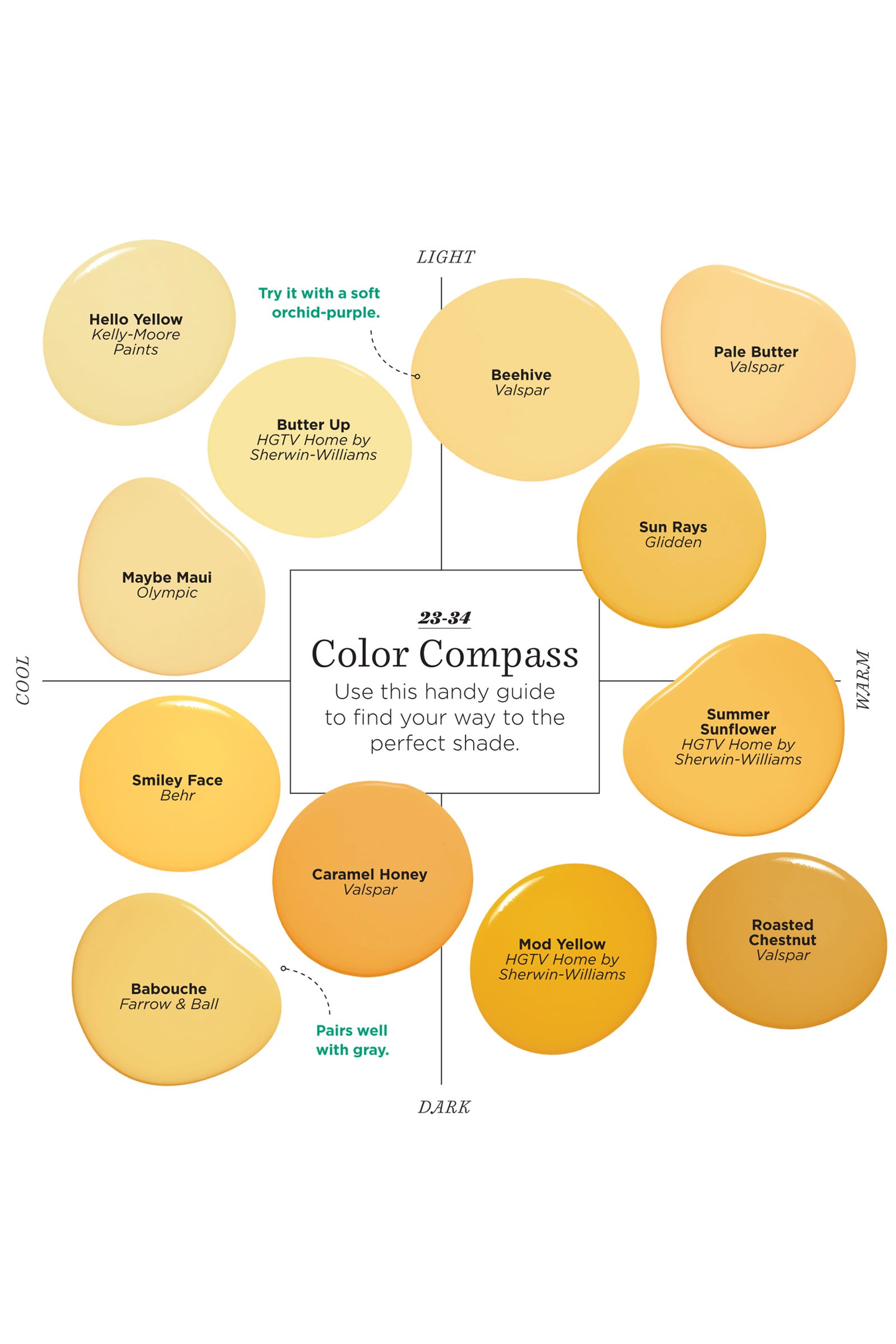 Image credit: CountryLiving
As a wallpaper color, yellow can be used as an accent color or throughout the space. Like red and other vivid colors, yellow attracts attention, so keep this in mind when choosing your wallpaper pattern. In some of our top 7 yellow wallpaper picks, yellow is the predominant color throughout the wallpaper pattern, whereas in others, it's a color that shares the spotlight with other colors.
In general, yellow wallpaper pairs well with other colors to create an interesting, visually appealing dynamic. Combining a bright yellow with other vibrant colors – like green, pink, or orange – can create a more optimistic, cheery mood within the space. These high-energy color combinations are perfect for communal spaces, like the living room or kitchen, or in a kid's room. To play up color contrasts, consider pairing yellow with black, dark blue, or even dark brown. These color combinations have a more dramatic, mature look. Lastly, pairing yellow wallpaper with white is a way to keep the space looking minimalist and balanced.
Top 7 Yellow Wallpaper
Starting off our list with a modern geometric print, this one features an interesting 3D quality to it that makes it pop off the walls. Using lighting and shadow techniques, each of the individual shapes are given a sense of volume and weight, making this yellow geometric print quite a visual feast.
Because of the three-dimensional look, many different shades of yellow are represented here, ranging from pastel yellows to deeper tones. This gives the wallpaper a more dynamic visual appeal, even though the color scheme is quite simple.
Framed Regal Vintage Floral Wallpaper Beige R4839
If you take yellow and mix in some brown and beige, what results is a more historic or classical color scheme that has a much more traditional aesthetic. These neutral colors help soften the brightness of the yellow, giving it a more mellow look that veers more toward a neutral than pastel color.
This floral wallpaper design has a vintage style that adds an air of elegance to the space. It's a luxurious pattern that's chock full of details, ranging from the different layers of the flower to the intricate border.
Grasscloth or natural wallpaper offers a highly textured finish that's much different than other wallpaper products. Using environmentally friendly materials, natural wallpaper adds a fresh, nature-themed aesthetic to the space.
Our next top yellow wallpaper is this vivid yellow grasscloth that features a horizontal stitched pattern. Each roll of natural wallpaper is different so you know you're getting a one of a kind, authentic product.
Using yellow as an accent color is a great balance between using a flashy color and not overwhelming the space with too much yellow. Yellow and white combine to create a gorgeous minimalist look that's luxurious and high-end.
The yellow colors in this wallpaper mural features a subtle gradient that makes it appear as if it's shining on certain parts of the design. The geometric overlay adds a contemporary aesthetic that's both attractive and versatile for any space.
Sticking with the idea of using yellow as an accent color, the next top yellow wallpaper on our list is a visually stunning photo mural that absolutely catches people's attention. Yellow and green make for an amazing color combination because it adds a breath of fresh air to the room.
Used as a backdrop in a bedroom, living room, or even in commercial spaces, both the rich yellow tones and lush greens capture the changing seasons perfectly. The inclusion of the winding road gives the image a dynamic movement as its curves are framed in the center by the thick forests on the top and bottom.
For our final two top 7 yellow wallpaper picks, we're going to look at commercial wallpaper, which is best used for public spaces and other contract design projects. If injecting a cheerful mood into the commercial space is your goal, yellow wallpaper can definitely do that. Yellow wallpaper colors work especially well in mid to large rooms because the additional space balances out the yellow colors, making it less visually overwhelming or harsh.
Our 6th pick for yellow wallpaper is none other than Minimalist Fold, one of the bestselling commercial wallpaper designs in our catalogue. It has such a subtle pattern but one that's well suited for all commercial applications, whether it's education, retail, or large-scale accommodations.
Our final top 7 yellow wallpaper pick is Yellow Triad, another geometric print but this time it shows up as a commercial wallpaper. It uses similar visual cues to create a 3D look, but one that's more stylized and flatter than the wallpaper we started off this list with.
It's a pastel yellow that adds a softness to the space, making it suitable for spaces like a hotel lobby, daycare, or even a small powder room!
Yellow Wallpaper Is An On-Trend Look!
One of the unique advantages to using yellow colors is that it can make a space feel more airy. It also works wonders in smaller rooms because it helps to brighten up the space, even in rooms where there's not a lot of lighting. This makes it particularly well suited to spaces like the basement, bathrooms or powder rooms, and hallways. Are you a fan of yellow wallpaper? Which one of these top 7 is your favorite? Where in your home would you hang yellow wallpaper? Let us know in the comments below!
Walls Republic Interior Design Blog - DESIGN BITS
Staying up to date on all the latest interior design trends can be hard, but our team at Walls Republic is making sure you're in the know. Keep your eye out for articles in our DESIGN BITS blog category to learn more on all the latest on-trend wallpaper products. From the hottest seasonal wallpaper designs to new patterns making a huge splash with interior designers, we're showing you that wallpaper is anything but boring! If you have a particular wallpaper topic or product you want us to write about, let us know in the comments below.
As always, be sure to follow us on Facebook, Twitter, and Instagram to stay up to date on all of Walls Republic's latest products, promotions, giveaways, and much more!